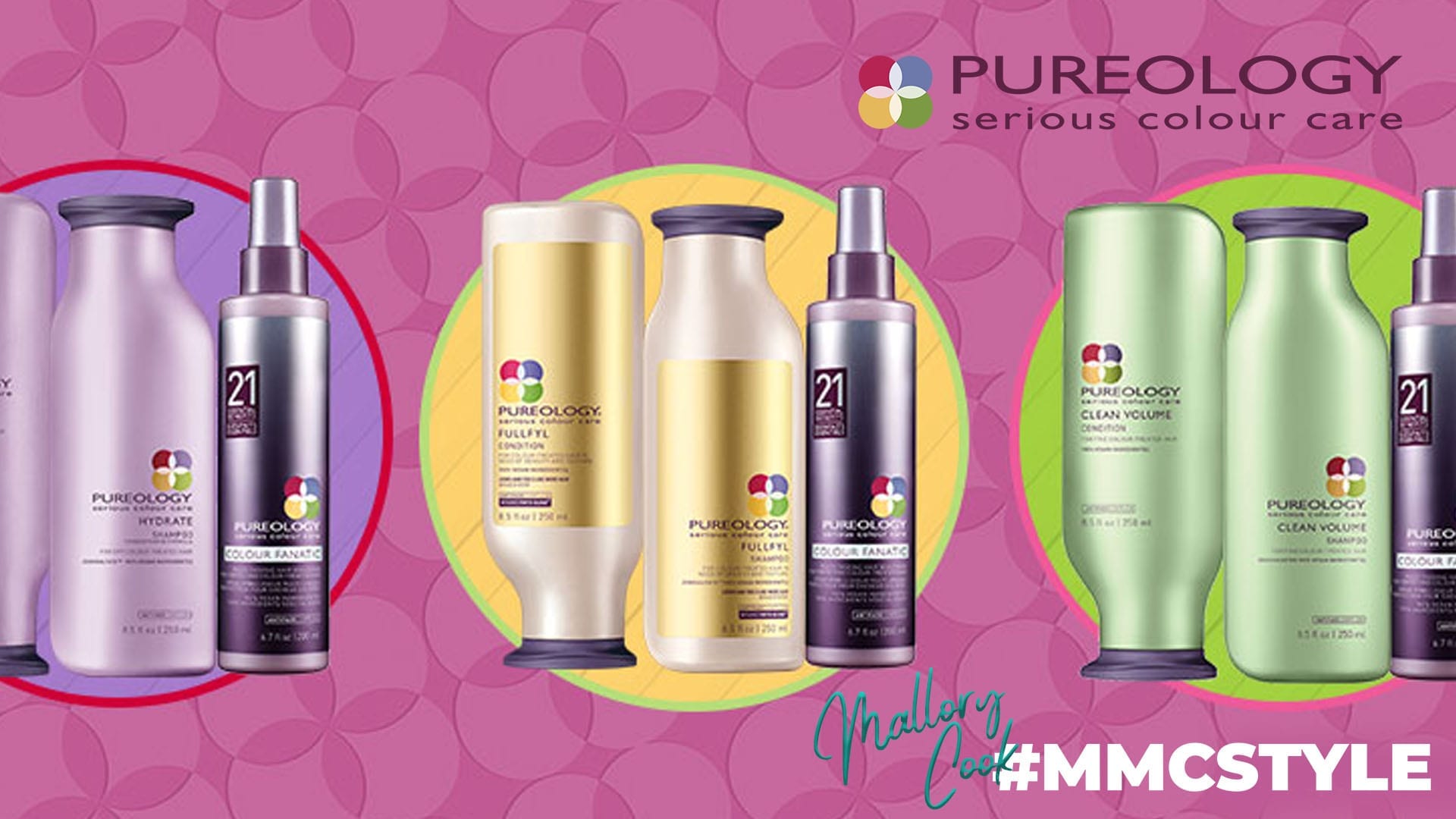 Pureology Hair Care and Style Products at #MMCSTYLE Salon
At #MMCSTYLE we really focus on the right style for your lifestyle, included in this is the correct product regime, which includes Pureology.  We don't just pick up our favorite looking, pretty, new product off the shelf.  We choose our products based on experience, science, and brand trust to always give our clients the best.
Pureology is a favorite salon product line, because it deserves to be
Pureology is indeed a favorite hair care product line of mine and has been for over a decade now.  Every single one of their products pack a punch with "multi-benefits" and their highly concentrated formulas.  All Pureology products also use bottles that are 95% post-consumer recycled materials, AND they are 100% recyclable!  Pureology NEVER tests on animals, EVERY product is color-safe and protecting, even the purifying shampoo which is rare in any cleansing shampoo.  Another great feature is Pureology's Anti-Fade Complex, which contains antioxidants and full spectrum UVA/UVB sunscreen to protect hair and help maintain color between your visits.
A couple more key points to love Pureology:
Pureology products are SULFATE-FREE!  Their concentrated ZeroSulfate® shampoos use a mixture of corn, coconut and sugar for a gentle cleanse, without comprising your hair color.
Pureology's dual benefits formulas completely protect your hair and add a variety of custom care benefits dependent on the particular line you choose, for example, their smoothing, strengthening, moisturizing and volumizing.
Each Pureology line has specific custom benefits with a unique aromatherapy fragrance to really elevate your experience in the salon, and you'll love it at home when you're showering either at the end or beginning of your day to help calm the senses!
Sustainability:
Pureology cares about everything surrounding each product, their ingredients, the materials they use in packaging and possible environmental impact pre/post product use.  Pureology plans out each of their product lines with their carbon footprint in mind to help sustain our environment for our planet.
In summary, Pureology's products are simply amazing, with super-concentrated quality, and is crazy GREEN with their production and materials they use in their company. Pureology continues to hold onto their values, delivering a very high value for their clients and themselves.  It is more of enough reason for me to love Pureology Hair Style Products!
If you're in the market for hair care or hair styling products, give Pureology Hair Care Products a try! During your next appointment, while we're exploring what products fit your lifestyle, I may just pick out something from the Pureology line.  If you hold similar values close to your heart, visit my Pureology product page to learn more or contact me, I'm always happy to talk about this amazing product line.