Bridal hairstyles by Mallory Cook at MMC Style Salon in Madison, WI. Don't sacrifice the hottest bridal trends and styles for your big wedding day. Our success with brides comes from our process from consultation to wedding day. #mmcstyle
Sunday, September 29, 2019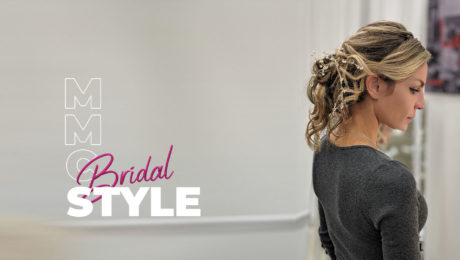 Dear bride-to-be:
First of all congrats!  Take a moment to remember how excited you were the day you were proposed to, smile, breathe deep!  Focus on that positive, beyond ecstatic feelings you had in those moments whenever the planning process gets tough!  While a wedding is a major milestone in ones life, so should the planning process and all events leading up to the big day.  Think of it all as one, big happy celebration, from the moment you know it's happening, to the moments your saying your "I-do's," toasting your guests, and having one last dance to end your wedding night.
I'm here to help, with some simple advice to help with planning your beauty needs for your wedding planning adventure.  From appointments you may last minute realize you wanted, or even needed, but didn't think to book, to who is paying the tab at the salon for your hair and makeup appointments for the day of.  Here is some pointers that will help make things smoother, and help avoid surprises through the process.
Pre-wedding appointments:
There's a lot of events surrounding a wedding, these all can end up feeling like a big 'to-do' if not properly planned for, you can end up feeling like a chicken with your head cut off and then even worse, realize you don't have time or don't have the skill to fix up your hair and makeup to the level you feel it should be.  After-all, these events are for YOU, you are the star, and you deserve to feel beautiful, and not have to stress about taking care of these things your self if you are not confident in your ability!  These are the events you may want to consider getting in for a blowout, maybe a quick makeup face, or even a classy yet simple curl style:
Wedding showers:  Now I understand some of these are more casual, and your usual day style is completely acceptable.  Some showers brides family or friends will throw for them entail a rented out banquet hall, or restaurant, etc.  These you may feel you want to feel a bit nicer for.  Hitting up your local blow dry bar for a blowout style and some makeup is a great way to start your day feeling special and pampered.  It really sets the tone to get excited to go to your party where friends/family/loved ones are going to pamper you with encouraging words, and shower you with thoughtful gifts.
Bachelorette party:  Depending on yours and your friends style, these can be an easy day trip, or out of town adventure.  Planning something big like a night out of dinner and dancing in a big city and want to feel fabulous?  Ask your crew if any are interested in a salon date to start the evening out right, you not only include your girls in getting ready, you ALL get to feel fabulous together with your last rendezvous before your date of become Mrs.  Again, setting up an appointment with a blow dry bar is a great option here, or if you're in your hometown ask your stylist if she and a couple other stylists would be interested in taking care of your wedding parties styles before heading out.  I personally would love to be a part of this for a client of mine, helping getting the girls ready while they sip on some bubbly is always an exciting time.
Nail appointments before the wedding:  Thursday is a BIG day to get nails done before your wedding weekend.  You will want to be sure at least three months in advance to have this scheduled for you and your party if this is an appointment you'd like to be sure you, and your girls standing next to you have done.  I suggest the Thursday before to take pressure off of the day you already will be worrying about running around for rehearsal and rehearsal dinner, but do what is best for you and your schedule!
Rehearsal dinner:  Sometimes the stress of dealing with family and your wedding party right before the big day can really get to ones nerves.  Scheduling an appointment with your stylist who will be doing your hair for your big day can be a great way to one, not only have your hair looking on point when your family and friends are the most stressful to you, but also guarantees success for setting you and your hair up for how it needs to be the next morning before doing the wedding style.
The trial run:
Unless you're from out of town and have trouble scheduling this, I always recommend a couple months before the wedding setting up a consultation and wedding style trial run with the stylist who will be doing your hair.  This appointment has many benefits to you and your stylist.  Your stylist gets to know your hair and how it holds curl, reacts to products, looks when up, half up, or down.  This gives you a chance to see how you like your hair in the style you picked out for your big day, maybe you will change your mind on how you thought you'd like it.  After all, no ones hair is exactly alike, you may have your eye set on something that isn't the best option for your hair type or look you want.  Your stylist should also take the time to get to know the style and vibe you want to achieve with your look, the feel of your wedding style, and the style of your dress.
Your hair stylist should take pictures and notes that will help to make things seamless on the day of.  If you have any changes you decide on between the trial and the day of, I highly recommend emailing your stylist so they are prepared.  Make sure you don't make any major haircut or color changes that could change how the style is executed after your trial run, unless recommended by the stylist doing your wedding hair.
If you are having makeup done for your wedding and have a particular way you like your makeup done, I highly recommend a trial run for this as well.  You don't want to be in the chair on your day of having to have them remove something and change it multiple times.
Spray tans:
Everyone likes a healthy glow and typically feels better with a tan year round.  If you're someone who gets spray tans regularly you have a pretty good grasp on how long in advance to get one for how you want it to look by a particular day.  Example: I like my spray tan best starting at day 2, day 1 can be a bit severe for me, day two it has softened and I won't be like "whoops I was too tan" while looking back at pictures.  If you're someone who is not used to spray tans, pick your salon you wish to go, and I recommend getting one before one of your events, shower or bachelorette party.  This will help you learn what day you liked it best, and figure out how long it lasts so it is at it's best on your wedding day.  You may decide all together to scrap it if you didn't like how it looked.  Better to find this out ahead of time!
Confirmations:
I like to recommend calling or emailing with the salon about a month before your wedding, and a week prior to make sure there have been no changes to stylists, and to be sure proper communications were made to have the right times, right number of appointments, and correct time to be done.  This will not only be a relief to the salon that you are staying on top of things and they can rely on your party, but you know everyone's appointments to be beautiful for your big day are secure.
The big day:
If in doubt or not specified, PLEASE, show up with CLEAN, and DRY hair and notify anyone else in your party to do the same!!!  It used to be the thing to show up with dirty hair on your wedding day, it was known having clean hair made a style not stick as well, or so we used to say.  Nowadays everyone is accustom to not washing their hair daily, using dry shampoo.  And I know me, I'll go a week and a half without shampooing, that would not be great for someone trying to do a formal style on my hair.  Stylists use hair spray and hair powders to "dirty up" clients hair if I need to add some texture, grit and hold before starting my style.  Coming with clean hair gives us the chance to prep the hair properly for the look we want to achieve.
For makeup, I am not a makeup artist, but I can tell you showing up with a clean face, moisturized lightly will create a great base for your makeup artist.  Talk to your esthetician/makeup artist before hand on any other specific instructions they may have.
If you or any of your party has extensions in your hair be sure to let the salon, or your traveling stylists know so they expect to take a little more time with that person.  I always like to get a list of how many people are in the party getting their hair done, this includes mothers and flower girls, and get a feel for what they want done in advance.  If someone is wanting a specific kind of up do that is a little more specialized it is also good to know.  For a salon they will take care to place each person in the party with the stylist who is best suited for the style they'd like created.  Please be sure to have a time frame of when you need to be done and make sure to notify your stylist your working with or the salon so they can be sure to accommodate appropriately.  If anything changes with that time make sure to let them know right away, but be mindful before changing your schedule for the day of, the salon or stylist has other clients and may need be able to accommodate major timing changes, it is best to get the schedule locked in before booking the appointments.
All of these prep steps followed allow for you and your whole party to really relax, and have fun with the getting ready process.  Depending on the time of day getting ready, you can plan to have  breakfast (scones, bagels, fruit, coffee, juices) ready and out for your party to grab as they are getting ready, or have a sandwich tray ordered and delegate who and what time is to pick that up and deliver to the salon or wherever you are getting ready.  It's also a usual thing for the bridal party to have wine, champagne, or mimosa fixings to sip on and enjoy while getting ready.  Be sure to have one or more people tasked to take some pictures of the group while they're getting ready as well!  Documenting the whole process you will appreciate later because the whole day is so exciting, parts of it can be a blur.
Paying:
Most salons or stylists will take some kind of deposit and have it due within reasonable time before the wedding day.  Confirm when paying your deposits the amount of time scheduled, and the people scheduled to be sure everything is in place.  You'll want to be sure you've discussed pricing before your appointments so there are no surprises.  Make sure to talk with your whole bridal party about the prices if everyone is expected to pay for their own hair.  Some brides will take on the price of these appointments themselves if they are requiring all girls to get their hair and makeup done for their wedding.  While some don't require the appointments so then the bridesmaids will pick up the tabs for their own appointment when finished.  Talking about this plenty in advance avoids any annoyed, or frustrated feelings on the morning of!
I hope this information helps you feel set up and prepared for your big day!  My biggest piece of advice on top of any of this is if you have questions just ASK!  Ask trusted friends and family members who have been married, and ask your service providers any questions you may have.  You don't know what no one tells you, people in the service industry are in the business of helping, so ask away and enjoy your process of planning one of the biggest days of your life!