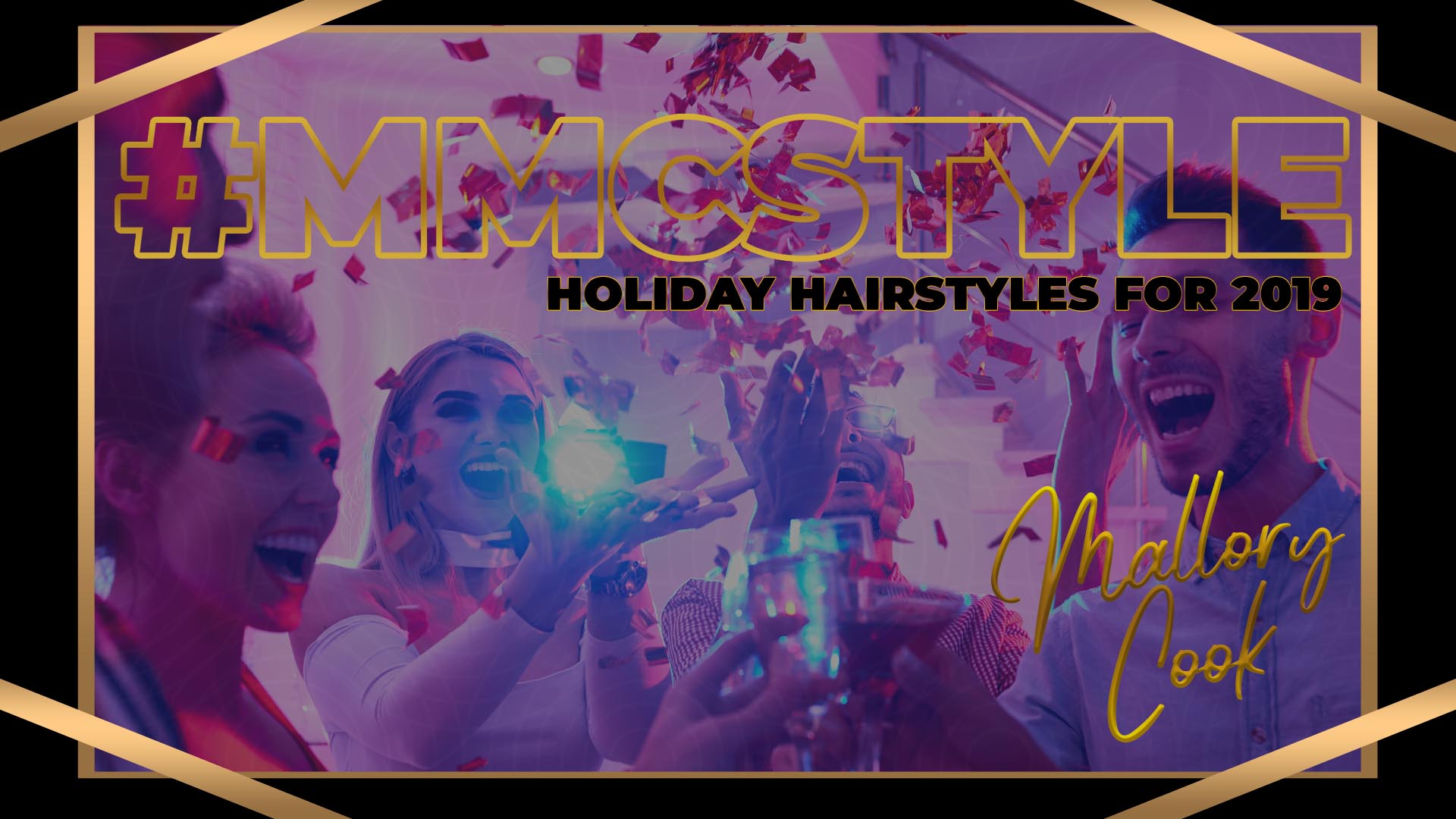 Holiday Hairstyle Ideas by Mallory Cook of #MMCSTYLE
Winter can be the cheeriest time of the year with magical winter weddings, festive holiday parties, glitzy New Years Eve parties, and everything fun and exciting in between!  It's time to switch up how we wear our hair, it's the gloomiest time of the year, time to freshen up our looks to brighten up our dark, cold evenings!  Here's some fun show-stopping styles to complete your memorable look during this festive time of year!
Holiday Hairstyle – Slicked Back Pixie:
More proof for those on the fence of trying a pixie that you DO have so many options!  Blow dry in a root boosting mousse such as Pureology Style & Protect On The Rise Root Mousse, you can use a Denman brush with your dryer to create lots of lift at the root, and direct the hair in a backwards motion. Finish the style with a polishing product such as Techni.Art Fix Polish from L'Oreal Professionnel, and a quick mist of Pureology Style & Protect Soft Finish Hairspray.  Voila!  You've transformed your pixie to a sweet, polished, party ready do!
Holiday Hairstyle – Deep Side Part With Waves:
A way to switch up whatever kind of wave you prefer, set with a deep waver, soft waves created by a flat iron, or a classic beachy wave do!  Move that part over to update your style, you'll have people asking what you did different, simple right?!  Start by blow drying your hair into your deep part, blow drying it into place with a flat paddle brush, using an 'X' motion against your scalp will help set your hair in that part by knocking out cowlicks.  Try using a blow-dry spray such as Pulp Riot Istanbul Blow Dry Spray to help hold your hair into your newly formed part.  After being sure your hair is all the way dry, add in your waves as you normally would, I suggest on the top of your head on the side with the most hair starting your wave pattern just below your parietal ridge (widest part of the head).  This will keep you from having an awkward amount of volume on the fullest hair side of your head.
Holiday Hairstyle – Pearl headbands and accessories.
A simple way to class-up any style, even a simple smooth blowout, is to add some pearls.  Polish your hair while softly defining your style with some Fatboy Tacky Oil Protective Styler to dried hair.  Then slide over a headband bedazzled with pearls, or pop in a pin or two to hold a section back in the front.  Polished hair versus more on purpose textured hair fits the look for pearls.
Holiday Hairstyle – Half-up high pony tail AND full on high pony tail
This is such a fun party look, especially great for curly hair, or fantastic for second day curled hair.  You can wear that hair on top nice and high to create all the volume and bounce!  I love adding in L'Oreal Professional Techni Art Next Day Hair Dry Finishing Spray to really poof out the top of a half up style, and lift out the ends of the down hair for a full style.
Make a statement by brushing it all up, sleek against your head and tying everything up.
Holiday Hairstyle – Low braids & pony's
This is such an easy style, anyone can do on themselves if they know how to put in a pony tail holder, and even more if you can braid!  Whether you go for a textured, soft pony, or a sleek pony tailed braid, this is a sure way to have an updated, fun look for your party.  It's also great to have all of your hair out of your face, keeping it out of your food, beverages, and pulled back for dancing!  Try adding in some bling, you can braid in some metallic strings, or pin in a string of pearls or gems.  Bored of a regular classic braid?  Try a fishtail braid, or infinity braid.  I recommend Braid Aid from Redken, rub some in your hands and work it through the lengths of your hair.  I also like a bit of Braid Aid in my fingers as I am completing a braid, it helps me hold hair, especially hair that is very silky and fine.